School Talks * Teacher Guides * Workshops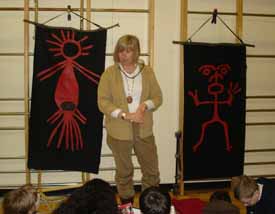 School Talks
Whether we're learning to be more comfortable with people of all types of abilities and exceptionalities through my books The Jigsaw Puzzle King and Free as a Bird, or exploring the past through one of my Reading the Bones Archaeology Adventure books, I like to immerse students in the stories. I do this through using interactive activities, dramatic readings, discussions, role-play, props and visuals.
These presentations are generally one hour and can be modified to suit the needs of students between Grades 3 to 8. I encourage teachers and librarians to contact me to discuss how I can tailor my talks to their students' needs.
I am currently available to speak in schools and libraries around Vancouver and the lower mainland. For presentations outside this area please email me with your request.

For more information or to schedule a presentation please contact me at gina@ginabooks.com
Find me at the Children's Writers and Illustrators of BC (CWILL) site here.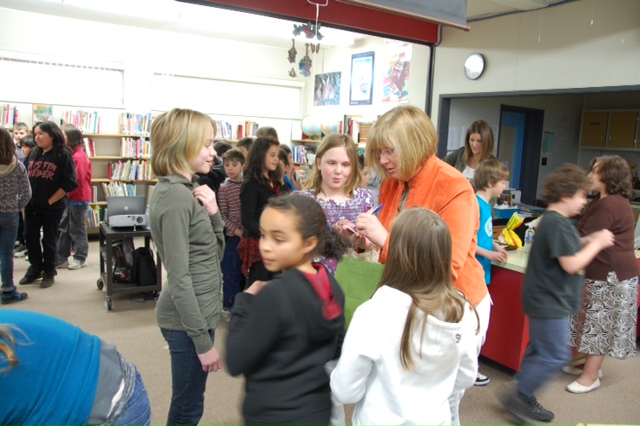 Comments from library staff:
· Gina is an excellent presenter, fantastic, organized, engaging, great with children, very easy to work with, and knowledgeable.
· Audiences were engaged, completely enraptured, and captivated.
· Her presentation was very visual, informative, enhanced by her knowledge of archaeology, and thoroughly enjoyable.
· The children paid close attention and joined in the interactive aspects of her presentation with great enthusiasm.
· Interesting information as well as an effective questioning technique while speaking kept the audience involved in the presentation.

Comments from teachers:
· I was really excited to see how engaged my students (in the back row) were with the topics and questions Gina brought up. Now the kids who haven't yet read her book will be keen to do so.
· Gina was fab at picking random kids to answer questions…putting them on the spot but in a gentle, open, curious way so they were encouraged to participate without feeling nervous.
· I love that this was a local author.
· I enjoyed the connections she made with the students and I appreciate how she related her work to BC, history and a wonderful education on what archaeology is.
· Very, very good. I would be very comfortable recommending this author to other teachers! Especially with the added bonus that it was so connected to the curriculum.
· It was challenging in a good way; it stretched [my students].
Teacher Guides
Workshops
I am available for student and adult writing workshops. Please email me and we can design a program to suit your needs. gina@ginabooks.com